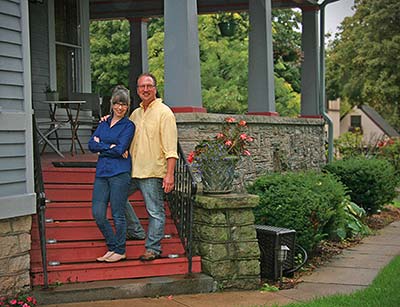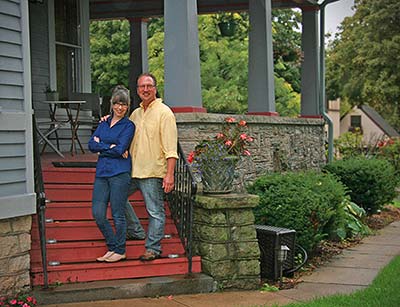 Tom and I are excited to be your new hosts at The Astor House! You'll see website updates soon highlighting the home-cooked breakfasts we bring to the table, along with baked goods that have won countless awards at our local county fair.  Ownership has changed, but the five-star hospitality remains the same.
Fall is making its presence known in Green Bay in some wonderful ways and residents of our little city are embracing it warmly. Just last week a flock of geese made their way across Monroe Avenue directly in front of The Astor House. Traffic, in perfect step with true Northeast Wisconsin hospitality, came to a complete standstill as the geese crossed the roadway outside of any designated crosswalk.
"Why don't they just fly?" we wondered to ourselves as we watched from the wrap-around porch of the B&B. Still, it was truly heartwarming to see the drivers' response to the impromptu parade. The geese were more interested in meandering than in crossing quickly, which is reflective of the general tempo of residents here in the fall.
It's the perfect time of year for that extra cup of coffee before the rush of the weekday routine begins, or before heading out on the weekend to choose the perfect jack-o-lantern for the porch. As we wave farewell to yet another summer in Green Bay, it's a great time to witness the earliest turning of the leaves, or, just maybe, to watch the geese stroll by in preparation of their journey south.
A trip to The Astor House in the fall is very special. In addition to the Packers Games, there are countless things to do in Green Bay to celebrate the season. To wet your whistle for the coming cool and crisp air and accompanying fun fall activities for families, here are a few events you can investigate.
Check out the first peek of fall colors at The Botanical Gardens, Barkhausen or The Wildlife Sanctuary
Click here for the Fall Color Report for Wisconsin.
October 5
Family Night Stargazing
5:00 PM-Neville Public Museum
210 S. Oneida St. Green Bay
920-4487874
October 5
Comic-Con
10:00 AM-Brown County Library
515 Pine St., Green Bay (920) 448-4400
October 7
Haunted Green Bay Workshop
6:00 PM–St. Norbert College
100 Grant St., De Pere (920)403-4075
For those who like to get spooked as Halloween approaches, Terror on the Fox is a popular and award winning attraction drawing fans of haunted houses from near and far.
Take a ride on the Terror Train, the iconic transportation into Wisconsin's Halloween Tradition.
Find their calendar here.