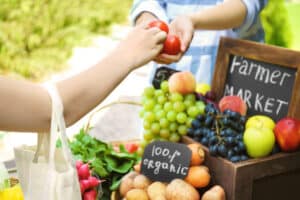 If there's one tried and true way to experience Green Bay as the locals know it, it's by visiting a local Farmer's Market. Nothing showcases the talents and resourcefulness of a community more than a local market, and those in Green Bay are no exception. In fact, the Downtown Green Bay Farmer's Market has been running strong since 1917. That means the markets have been a part of Green Bay's culture longer than the Green Bay Packers. Needless to say, Green Bay harbors a deep history with this markets, and it's a truly incredible piece of our city worth visiting.  The next time you stay with us at the Astor House Bed and Breakfast, make sure you take the time to visit one of our incredible Farmer's Markets in Green Bay.
Green Bay Top Farmer's Markets
The Saturday Market in downtown is not only the oldest, but also the most popular of the Farmer's Markets in Green Bay. The Saturday Farmer's Market opens for the season on May 26, and will run every weekend through October.  The market hosts over 100 local vendors, each of which must come from within a 75-mile radius of Green Bay and grow, make, cook or prepare their own products. It's truly a showcase of the best goods produced here in Green Bay.  There are also a variety of fantastic live music performances and events each Saturday at the market, and an experience you won't want to miss.
Another wonderful Farmer's Market to visit are the Wednesday evening markets on Broadway, which has grown to include 150 vendors, and is the largest public market in Green Bay.  Opening Day for this market is May 30, 2018, and it will run into September. While this market is a wonderful place to stock up on local fruits and vegetables and enjoy some boutique shopping, it's really known for its food and drink offerings.  Instead of sitting down for one big meal, you can spend your evening grazing your way from food vendor to food vendor, and enjoy a taste of Green Bay's top restaurants.  You can also relax in the beer garden, which features pours from Green Bay's own breweries. It's a fantastic evening treat in the middle of the week.
Additional Farmers Markets to Visit
There are a couple of notable Farmer's Markets nearby that are also worth a visit. The De Pere Market is Thursday evenings in Seroogy's Chocolate parking lot. Afterwards, enjoy a walk around historic Downtown De Pere and the RiverWalk, where you'll enjoy scenic views of the Fox River. The Oneida Market on Thursdays, run by the Oneida Nation, is a wonderfuly place to browse Oneida and other locally grown fruits, vegetables, honey, maple syrup, flowers, plants, sweet grass and naturally raised or grown products. You can also find handmade Oneida arts and crafts.
The entire Green Bay Farmer's Market experience offers something for everyone, and is a great way to spend a relaxing morning or evening during your stay at the Astor House. Many of the incredible ingredients found at our local Farmer's Markets make their way into your breakfast each morning at the Astor House Bed and Breakfast. Book your stay today, and enjoy this fresh insight into Green Bay's local culture.