Great Places To See Fall Foliage In Green Bay
From the stunning fall foliage to the Packers playing in the Lambeau Field, nothing beats autumn in Green Bay! Whether a drive along country roads or a stroll in the city's park, you can see fall foliage everywhere.  If you wish to see more nature, we recommend taking a short drive. Head north towards Sumaico and look for Butler Rock. You will find the best views at the Mountain Fire Lookout Tower. Also, be sure to take Rustic Road 8 between Flintville and Suamico. It wanders between stands of hardwood and coniferous trees, and is truly beautiful during Autumn. Alternatively, go south past Appleton to Lake Winnebago, Wisconsin's largest inland lake. You will find breathtaking views from the High Cliff State Park and Ledge View Nature Center observation towers. The best drive is east on the 'quiet side of the lake'.
Take your time and allow your five senses be stimulated during a fall getaway to Green Bay. The Astor House is a charming old-world Bed and Breakfast, equipped with all the modern comforts you need during your time in Green Bay. Check our availability online and reserve your room today.
Fall Foliage is Everywhere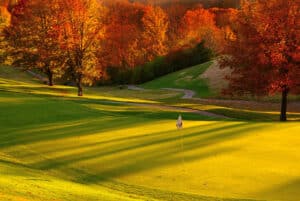 You don't have to get out of the city to see the fall foliage. With the Cheeseheads cheering on their team in Lambeau Field, and trees turning their vibrant shades of Fall, Green Bay is shimmering in a golden glow. Enjoy a quiet walk along the Fox River Trail, or watch for wildlife in the Bay Beach Wildlife Sanctuary or the Barkhausen Waterfowl Preserve. Everywhere you turn, the tapestry of green, yellow, red, and brown will delight your senses.
In addition to these beautiful places, Green Bay is home to more than two dozen golf courses; another great reason to visit us this fall! Many courses have evergreen and coniferous trees surrounding the open greens. Just don't let the scenery distract you from your game.
Before the cold wind coming off Lake Michigan and the cold winter snows drive us all indoors, getaway to Green Bay and enjoy this magical season with us. Book one of our five rooms and make Astor House your home away from home this fall.
---