Plan Now to See Fall Foliage in Green Bay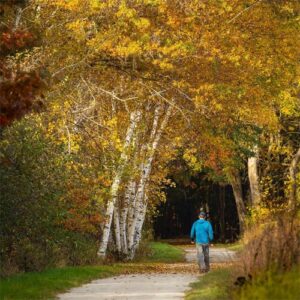 As we bear down on Labor Day, and what for many is the last official weekend of summer celebrations, we can somewhat reluctantly welcome the start of fall. The countryside around Green Bay is already showing hints of colorful autumnal hues, which means now is the perfect time to plan a getaway to our romantic Bed and Breakfast.  As the air begins to cool, we'll soon be surrounded by fall's hallmark hues of crimson, orange, yellow, and green. You won't have to go far to see the finest fall foliage the Midwest has to offer.  We have a few great ideas to make this fall foliage season one you'll never forget. But first, you need to book your room at our romantic Green Bay Bed and Breakfast. Rooms will fill up fast during peak fall foliage season, so don't wait!
Green Bay's Best Fall Foliage
Seeing peak fall foliage in Green Bay can be a truly breathtaking experience.  Green Bay is a nature lover's paradise.  With so many parks and green spaces to enjoy, it's easy to get outside and enjoy nature during the crisp but colorful fall months.  Peak fall foliage season in Wisconsin starts in the North and works its way south, usually starting in mid-September and peaking by mid-late October.  The best way to get those panoramic fall views is to take a hike, but it's certainly not your only option to enjoy the magic of fall.  There are a full range of fall-themed activities to enjoy in Green Bay, and we've highlighted a few of our favorites for you below.
Spend a day walking the trails of beautiful Bay Beach Wildlife Sanctuary.  It is not only the largest park in Green Bay, but it's the second largest wildlife rehabilitation program in Wisconsin.  It's a wonderful place to visit at any time of year, but hard to beat during fall foliage season.
Walk along the East River Trail, the Fox River State Recreational Trail, or the Mountain Bay State Recreational Trail. Each offers a different, yet beautiful glimpse into Green Bay's stunning fall foliage.
Head to the Barkhausen Waterfowl Preserve, one of our favorite places in all of Green Bay. This pristine preserve provides refuge for a wide variety of waterfowl, wildlife, and plant species. Over 9 miles of scenic hiking trails run through the marshes and forests, making it the perfect place to be on a fall afternoon.
UWGB's Cofrin Arboretum surrounds UW Green Bay's campus, and is truly beautiful during fall.
Get out of town and go for a drive for the day.  Nearby Marinette County's stunning waterfall tour is a 125-mile scenic wonder during the colorful autumn months.  Neighboring Door County's Coastal Byway is also an unbelievably scenic trip during the fall months, and easily manageable as a short day trip from Green Bay.
Take a stroll and enjoy the displays in the stunning Green Bay Botanical Garden.
We've already begun celebrating fall at the Astor House Bed and Breakfast, and there are delicious fall treats coming out of our kitchen as well. Beyond relishing the gorgeous hues of fall, there's plenty to do in the Green Bay area. Book your stay with us today, and start planning your fall getaway.
---