Our Green Bay Bed and Breakfast is the Perfect Fall Getaway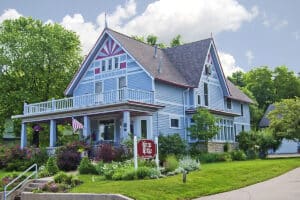 Summers in Green Bay, Wisconsin are filled with adventure and fun, but it's time to start turning our attention to the upcoming fall months. With schools in or nearly-in session across the country, many parents and caregivers are finding themselves thrust back into the hectic pace of day-to-day life.  So this fall, treat yourself or your loved ones to something special, and come spend a few blissful nights at our award-winning Bed and Breakfast in the historic city of Green Bay.  Fall in Northern Wisconsin is simply magical, as the colors of the season change from green to the signature golden, fiery hues of autumn. Even if you're just in town to join us for a Green Bay Packer's game, there's no where better to stay than our romantic Green Bay Bed and Breakfast. Come see what makes us different than our competitors.  Book your room at the Astor House Bed and Breakfast today.
Fall at our Green Bay Bed and Breakfast
It's true that there are plenty of wonderful places to stay in the greater Green Bay area, but none quite match up with the peaceful, romantic ambiance of the Astor House Bed and Breakfast. Our Inn sits just 3 miles from Lambeau Field, and is perfectly situated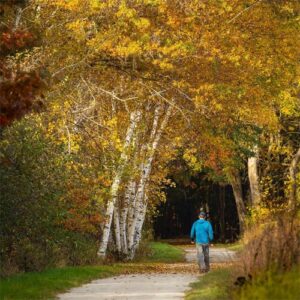 to enjoy everything Green Bay has to offer.  Inside, you'll find 5 distinct suites, each tastefully decorated and designed with you in mind. But your stay is about more than the accommodations, and even the hospitality.  What you'll find here is an experience; one that is reflective of Green Bay's Packer spirit itself.
As we mentioned, our Green Bay Bed and Breakfast is situated just minutes from all there is to enjoy in downtown Green Bay, including fine dining, great shopping, Lambeau Field, the Fox River State Trail, and so much more. From here, your options are endless.  Each day in Green Bay will lead you somewhere new. One night, enjoy a romantic dinner at Angelina's, followed by a show at the Meyer Theatre, or one of Green Bay's many performance venues. The next day, spend some time browsing boutiques in downtown Green Bay, or take a tour of Lambeau field and at least one of our local wineries and/or breweries. Nature lovers won't want to miss the breathtaking views at Barkhausen Waterfowl Preserve, which is simply splendid in the fall.
Plan a little escape this fall at our Green Bay Bed and Breakfast. You won't regret it!  Book your room today.
---