Wine & Beer Festivals in Green Bay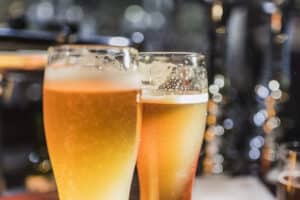 Fall really is a fun time of year to be in Green Bay. Not only have the summer crowds started to thin a bit, but fall colors are slowly starting to creep in, turning everything stunning shades of red, orange, yellow, and green. Fall also happens to be a time when Green Bay hosts a variety of wine and beer festivals. What more could you possibly want in fall?  Book your room at our Green Bay Bed and Breakfast today, and come celebrate the changing of another season with us!
Wine and Beer Festivals in Green Bay
Green Bay is an incredible city to visit if you're into local beer and wines.  Green Bay itself is home to six craft breweries, and one in the neighboring town of Algoma. Each has been met with tremendous success, as Green Bay's craft beers gain popularity.  The same can be said of our local wineries as well. Locally grown, cold-hardy grapes supply some of the finest family-owned wineries in Northeastern Wisconsin, each of which has its own unique appeal. Located in historic buildings or scenic vineyards, all offer an impressive range and selection of wines. This fall is the perfect time to celebrate them! Here is a listing of some of the best wine and beer festivals coming up in September and October around the Greater Green Bay area:
Beyond heading to these wine and beer festivals, you can also take a tour of many of Green Bay's top breweries. This is a great way to get a behind the scenes glimpse into how these businesses have created such a successful following. Great breweries to tour include Badger State Brewing, Hinterland Brewery, and Titletown Brewing.
Most importantly, plan ahead and book your room at our Green Bay Bed and Breakfast early. It gets busy in Green Bay during fall!
---