Try the 5 Best Restaurants in Green Bay this Fall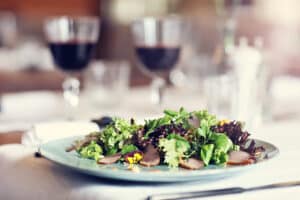 Dine in the best restaurants when visiting Green bay this fall and experience excellent food, ambience and service. Enjoy quiet, intimate cafes and grand multi-story establishments with cocktail lounges and dining rooms on separate floors. All create the mood for a romantic, special evening out after a day exploring this fun city. Whether you're looking for gourmet comfort food or daring flavor combinations, all are served with superb hospitality. A best restaurant experience is not complete without sophisticated cocktails, perfectly paired wine or unique craft beer. Talented mixologists, sommeliers, and even a on-site brewery are found at this selection of great restaurants.  Plan an unforgettable night out with your loved one and discover the foodie side of Green Bay. The Astor House Bed and Breakfast offer guests beautiful accommodations in the historic house, that's close to all the best restaurants. Book an exciting getaway to Green Bay this autumn.
5 Best Restaurants to visit on a Green Bay Vacation
Green Bay visitors have an abundance of dining and cuisine choices. After a thrilling Packers game or a serene fall foliage hike, refuel and relax at one of the best restaurants in the city's lively downtown. Discover the amazing dining culture that rivals any other big city. There's always a new places opening as the options grow in this vibrant city but here are some favorites from our top 5 list:
Dine at the Best Restaurants then Sleep at the Best Bed and Breakfast
The Astor House welcomes new and returning guests year after year with warm and welcoming hospitality and service. Our central location makes enjoying our energetic and charming city a breeze. The five luxury guest rooms each have generous ensuite bathrooms, some with double whirlpool tubs. Return from a day exploring and relax in your private room, many with cozy gas fireplaces. Then wake to a sumptuous gourmet breakfast each morning. What could be more romantic? Reserve your suite with us today and experience a premier bed and breakfast vacation in lovely Green Bay this fall. 
---