An Accessible Boardwalk on the Beach in Algoma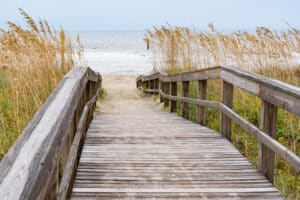 Though there's plenty to do in downtown Green Bay this summer, there are surrounding communities that make for a wonderful day trip. Algoma is one such town. Algoma, a charming small town located on the shores of Lake Michigan, is a beautiful place to spend a day. Algoma is the perfect place to go fishing, or just browse the shops, walk along the beach, or sip a glass of wine.  Our favorite thing to do is enjoy the shoreline along scenic Lake Michigan, where Algoma's award-winning and ADA-accessible boardwalk is located. Come explore Green Bay and the surrounding communities with us this summer.  Book a room at our Wisconsin Bed and Breakfast today!
Walk the Boardwalk in Algoma
The Boardwalk in Algoma starts at the Visitors Center and ends at the Algoma Marina. It's handicap accessible on both ends and travels for approximately 1/2 mile long Algoma's Crescent Beach. The views from the boardwalk are incredible, looking out over the vast expanse of Lake Michigan. Feel free to pause for a few moments, and take a rest along the sandy shores of Crescent Beach. You may even want to pack and picnic and make a day of it. As you travel down the boardwalk, don't miss the scenic views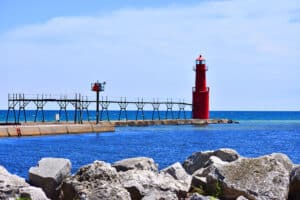 of the iconic Algoma Pierhead Lighthouse in all of its red glory. It makes the perfect backdrop for all of those Instagram photos you'll be taking along this beautiful stretch of boardwalk.
When you've had your fill of Crescent Beach and the Algoma Boardwalk, take the time to explore the rest of this quaint lakeside town. Enjoy sipping a glass of wine at the historic Von Stiehl Winery, with its 10,000 square foot production facility and three underground cellars. The building itself is on the National Register of Historic Places, and they produce over 80,000 gallons of wine each year. Their incredible terrace overlooks the Algoma Lighthouse and Lake Michigan. When it's time for dinner, try the Fishtale Ale House, Skaliwags Burger Company, Uncorked by Skaliwags, or Ahnapee Brewing Company. '
When you're done for the day, the comfortable accommodations at the Astor House Bed and Breakfast in Green Bay will be waiting.  Book your room today!
---