Find Stunning Fall colors in Green Bay Wisconsin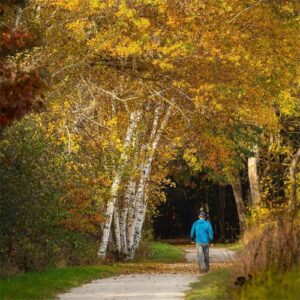 Have you ever dreamed of seeing the Fall Colors in Wisconsin? This year, make it a reality and visit us in Green Bay. Though we're hesitant to say goodbye to summer quite yet, there's no doubt that fall is one of our favorite seasons here in Green Bay.  Fall means football, of course, as we rally around our longtime team, the Green Bay Packers.  Packers Game days are an event in Green Bay, with all-day tailgating and celebrations at sports bars and living rooms around town. But, beyond football, fall is truly magical in Green Bay.  It's a great time to get outside and take in the colorful splendor of fall around town and in our parks. The fall colors, set amidst the sparkling blue background of Lake Michigan, are breathtaking.  See it all, and experience a magical fall this season at our Green Bay Bed and Breakfast. Book your room today!
Where are the Best Places to See Fall Colors in Green Bay?
In Green Bay, we're spoiled by the natural beauty of the area. Fall colors start showing their autumnal glory sometime in late September and usually peak sometime around the middle of October. This year, the experts at the Wisconsin Fall Color Report, which tracks the fall colors as they move from north to south across the state of Wisconsin, are predicting peak fall foliage to be somewhere around the 3rd week of October. Once you're here, these are our 10 favorite places to go see Green Bay's fall colors:
One of our favorite places to enjoy the fall colors in Green Bay is the Green Bay Botanical Garden, which is simply magical during the fall.
A surprising place that many might not consider as a place to view fall colors is Lambeau Field. However, the green of the stadium contrasts nicely with the changing fall trees around it, and it sets the perfect stage for all things fall in Green Bay.
At Green Isle Park, patience will reward photographers waiting for the perfect light over the East Trail Bridge.
How about golfing this fall in Green Bay? The weather is still enjoyable, and you'll also find that the scenery from golf courses like Thornberry Creek at Oneida is quite beautiful.
Though it may not technically be in Green Bay, driving up the Door County Peninsula is exceptional during the fall. Green Bay, with its vibrant arts community, restaurants, breweries, and attractions, makes the perfect home base for exploring all of northeastern Wisconsin.
The Marinette County Waterfall tour near Green Bay is also a wonderful way to get out into the country and take in some of the fall colors on this beautiful scenic drive.
Spend an afternoon walking the trails of beautiful Bay Beach Wildlife Sanctuary.  It's a scenic place to visit at any time of year, but hard to beat during fall foliage season.
Head to the Barkhausen Waterfowl Preserve, a pristine preserve provides refuge for a wide variety of waterfowl, wildlife, and plant species. Over 9 miles of scenic hiking trails run through the marshes and forests, making it the perfect place to be on a fall afternoon.
On the outskirts of UW Green Bay's campus, you'll find the picturesque grounds of UWGB's Cofrin Arboretum. It's also a great place for birdwatching.
Grab a bike or take a walk along one of Green Bay's recreational trails, enjoying the changing scenery as you go.  Favorites include the East River Trail, the Fox River State Recreational Trail, or the Mountain Bay State Recreational Trail.
The Best Lodging Accommodations in Green Bay, Wisconsin
If you love to admire Mother Nature, then visiting these places in Wisconsin should be at the top of your list this fall. We know that an important part of your vacation is choosing a place to call home for the duration of your stay.  For that, there's nowhere better than the charming and historic Astor House Bed and Breakfast, located near downtown Green Bay and many of the city's top attractions. Each morning of your stay will begin with our gourmet, made-from-scratch breakfasts; the perfect fuel to keep you going throughout the day. Our five distinctly decorated guest rooms are a welcoming respite at the end of a crisp fall day, and our service and hospitality are second to none.  Book your room at our Green Bay Bed and Breakfast today.
---