Get into Holiday Spirit in Green Bay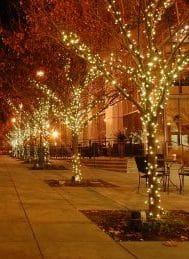 It's hard to believe that the holidays are nearly here again. There are many reasons to come to Green Bay this time of the year. Whether you are here to visit family, enjoy a little shopping, or celebrate the festivities, there is something for everyone. The downtown shopping district kicks off the holiday season on November 18, when the district will be illuminated with tree lights. Many shops will stay open until 8 pm so you can get a head start on your holiday shopping. The festivities continues the following day with a morning holiday parade. Another popular event that many locals and frequent Green Bay visitors look forward to is Gallery Nite. It is the biggest shopping and art extravaganza, and features shops hosting artists, musicians, restaurants tastings, free trolley and pedicab rides, art demos, and more! This year, it will take place on November 17. Centrally located Astor House is the perfect bed and breakfast. Book your room here so you don't have to travel far to enjoy the holiday spirit in Green Bay this year!
Holiday Activities in Green Bay
If you are interested in culture and history, Green Bay has much to offer this holiday season. The Railroad Museum at the Lenfestey Center has beautifully decorated Christmas trees and trains for the holidays. Alter
natively, you can enjoy a Victorian Christmas tea party held at the Hazelwood Historic House Museum. Reservations are highly recommended. For many families, holiday season is not complete without watching a Nutcracker show. You'd be pleased to know that the Green Bay Nutcracker Ballet will be held at the historic Meyer Theater starting November 25. Last but not least is the holiday lights show at Green Bay Botanical Garden. It is a holiday favorite with more than 250,000 lights arranged in flowers, butterflies, and other botanical themes. Purchasing tickets in advance will avoid long lines at the ticket booths.
There are many restaurants nearby to help you refuel during your busy holiday adventure. Titletown Brewing
Company is a brewpub in a historic train depot. Regatta 220 presents fine dining experience. Angelina is an Italian restaurant with intimate ambiance. Another local favorite is Black & Tan Grille, where you'll enjoy anAmerican menu and stunning river views. 1919 Kitchen & Tap in Green Bay is the perfect place for Packers fans to dine.  If you're looking for something a bit more delectable, try the exquisite Little Tokyo for sushi, or SIL in the On Broadway shopping district. With so many things to do and places to eat in Green Bay, you will get into the holiday spirit in no time. Start by reserving a room at Astor House today.
---