Make Astor House Your Green Bay Getaway Destination
There are still plenty of gorgeous fall colors in Green Bay and its surrounding areas. This is the perfect time to surprise your significant other with a little getaway before the hectic holiday shopping and family gathering begins. Whether you live in Green Bay or need a little R&R, make Astor House your getaway destination.  Check out the Astor House featured on WFRV #WeAreGreenBay Road Trip with Millaine Wells and Lisa Malak.  Built in 1888, this bed and breakfast is a house rich in history and modern day amenities. Each of the five rooms is decorated with a different theme, from London to Hong Kong. All rooms have a private bath, four rooms have a fireplace and a whirlpool tub.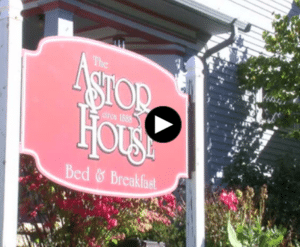 Our Innkeeper understands that some guests may just want to order breakfast in their room, while others don't want to miss the conversations around the breakfast table.   Call Barb today and ask her about the mid-week getaway package, or come and stay during the weekend for a Packers game.
A Green Bay Getaway
The temperature may have dipped, but it is still a great time to enjoy the outside, especially in the parks and trails nearby and around Green Bay. First of all, the Fox River Trail is just four blocks away. Nearly 10 miles of paved trails, starting from downtown, meander along the river and are accessible for everyone. Bay Beach Wildlife Sanctuary is located at the north edge of downtown. It is an urban wildlife refuge. A short drive from the Astor House is Wequiok Falls; a small park worthy of a visit to see the Niagara Escarpment. Continue on Highway 57 for nine minutes, you will arrive at Bay Shore Park. Without the campers at this time of the year, the park is quiet and tranquil. You can stroll along the cliffs, taking in the fantastic view of the Bay of Green Bay. If you are looking for a romantic spot, the hidden bridge in Calavera Springs located in Suamico is the perfect place.
After a full day of exploring
outdoors or watching the Packers in Lambeau Field, nothing is more satisfying than relaxing in a cozy place with a cup of hot tea or hot cocoa. Let the warmth of the fireplace or the comfort of the whirlpool in your room melt your stress away.  Book your room today.
---