Enjoy Holiday Lights While Doing Last Minute Shopping In Green Bay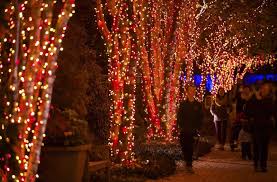 As daylight dwindles, Green Bay glistens this time of the year. Holiday lights and glittery decorations add an elegant shimmer to the city. From the downtown shopping district to Lambeau Field, Green Bay's signature landmark, much is covered with lights and holiday cheer. At the stadium itself, there are 30 wreaths, 14 Christmas trees, over 1,000 feet of garland, and countless handmade floral swags, bows and gift-wrapped boxes. What better way to marvel at those decorations than to watch one of the three Packers' home games in December?  If you are visiting Green Bay, do make Astor House your home away from home. Conveniently located a few blocks from Lambeau Field and a short hop from the shopping district of Green Bay, we offer modern comforts in a historic house. Reserve your room today!
Want to see more holiday lights?
There are many other places that the locals go to enjoy holiday lights in the Green Bay area. The Garden of Lights at the Botanical Garden, the Festival of Trees at the National Railroad Museum, and the New Zoo's Christmas decorations and lights will brighten anyone's spirit. But if you would rather spend time indoors during these cold winter months, we recommend you check out upcoming performances at the historic Meyer Theatre.  You won't be disappointed!
Last Minute Holiday Shopping
If you are one of those who likes to wait until the last minute to do your holiday shopping, you will find lots of unique gifts in Green Bay. From Harley-Davidson bikes to art galleries that feature many local artists, the shopping district in downtown offers many wonderful holiday gift ideas. On Broadway has blossomed into a very popular shopping destination in Green Bay, and is worth checking out. And of course, don't miss your chance to sample the many breweries and wineries in Green Bay as you go.  You may even find something worth gifting there!  Beer drinkers can check out Titletown Brewing, Hinterland Brewing, Leatherhead Brewing, Stillmank Brewing, and Badger State Brewing, to name a few. For wine lovers, in Green Bay and nearby there is Captain's Walk Winery, Mona Rose Winery, Duck Creek Vineyard & Winery, and Parallel 44.
As this is the season of joy and giving, give some time to yourself and relax at Astor House and enjoy all that Green Bay has to offer. Call us today and reserve your room.
---