Running Marathons and Other Races in Green Bay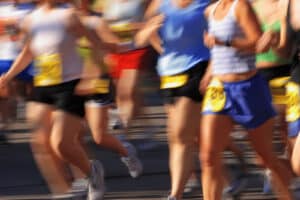 The outdoor running season has finally arrived in Green Bay! Few people are aware of the prolific running culture in this town, but it's definitely become a popular race destination for athletes around the country. There are thousands of running trails and hundreds of running events each year in and around the city.  This spring, Green Bay will once again be hosting some wonderful running events, including the popular Green Bay Marathon and the Bellin Run. Whether you plan to participate in or just watch these great events, the the Astor House is the perfect place to stay. Book your room at our historic Bed and Breakfast now, so you'll have a quiet retreat waiting for you at the end of a long day.
2018 Running Events
The Green Bay Marathon, which takes place May 19 – 20, 2018 attracts thousands of runners, and the event lasts for three days. It begins with a health and fitness expo where you can get the latest running gear, or receive tips on how to stay in shape. The expo is followed by 5K and 10K runs, and finishes with a half and full marathon on the last day. The popularity of the Green Bay Marathon owes to its easy terrain and scenic route. Those running the half marathon will enjoy the tree-lined streets in west Green Bay and the village of Ashwaubenon, while marathoners will tour the charming village of De Pere before running along a scenic, six mile stretch of the Fox River Trail.  Even if you don't plan to run, you can still come down to watch the spectacle and cheer on those brave athletes that do participate in this enduring Green Bay tradition.  Afterwards, there will be a tailgate-themed party at none other than Green Bay's Lambeau Field.
While the Green Bay Marathon is not the first running event of the season, it definitely is the start of a busy running season in Green Bay. If you want to avoid the crowded Marathon, or maybe you just want to get more races under your belt, you'll have plenty to choose from. Just in the month of June, there are the Aurora BayCare Triathlon, Bellin Run, and the Titletown Ultra Series.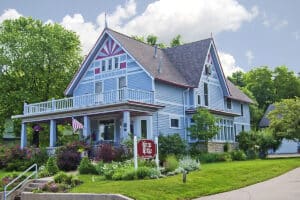 The Bellin Run, which is named after Dr. Bellin, is an event close to our hearts at the Astor House Bed and Breakfast.  Dr. Bellin, who once lived in the Astor House, was a prominent physician and surgeon in Green Bay in the early 1900s. He founded Bellin Hospital and Bellin School of Nursing, ultimately leading Green Bay to become a major regional medical center for Northeast Wisconsin.  In honor of Dr. Bellin, the first Bellin Run was held in 1977 to promote cardiovascular fitness.  Since then, this annual 10k run has grown to be one of the largest 10K races in the nation, and is a popular running event for people around the country.  Last year alone, this spectacular running event drew 16,539 walkers, runners and wheelchair participants to Green Bay.  Register today so you can participate in this exciting community event.
Located just 3 blocks from Bellin Hospital, the Astor House is both a convenient and relaxing place to stay any of these runs. There's nothing better than completing an exhilarating and exhausting athletic event than relaxing in luxurious accommodations, all made better by the relaxing whirlpool tubs waiting for you upon completion of your run. Rooms will go quick, so book your stay at the Astor House Bed and Breakfast today.
---