Romantic Wining and Dining in Green Bay, Wisconsin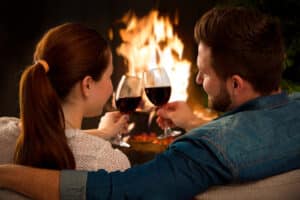 Green Bay, Wisconsin, home of the Green Bay Packers, is also the unexpected home to a very romantic scene. From dining to dessert and everything in between, Green Bay is the perfect destination for your next romantic getaway. Our Inn has everything you're looking for, including relaxing whirlpool tubs in most suites, and cozy fireplaces to curl up in front of.  Beyond that, the best of Green Bay is easy within reach, thanks to our convenient location. Enjoy a little respite this winter, and book a romantic getaway to the charming town of Green Bay, Wisconsin. 
Romantic Wining and Dining in Green Bay, Wisconsin
If you're looking to wine and dine your fair partner, Green Bay couldn't be a better fit. Wisconsin has historically been revered for its cheese. What goes perfectly with cheese? Wine! There are some delightful wineries in the Green Bay area, and this winter is the perfect time to spend tasting your way from one to the next. When you're ready to put a little more in your bodies, there are also plenty of great romantic restaurants in Green Bay.  Here are a few of our favorites:
Captain's Walk Winery offers laid-back wine tasting in a beautifully preserved pre-Civil War house in Downtown Green Bay.
Monarose Winery is located in Ashwaubenon, a village of Green Bay, Wisconsin that encourages visitors to sample their wine. The winery is also conveniently located near beautiful walking and biking trails.
1951 is a fine-dining establishment located in the northwest side of Green Bay that serves traditional American cuisine. 1951 is known for their beautiful, spacious bar, as well as their happy hour menu.
a'Bravo Bistro is a quaint, chic, upscale deli located in the east side of Green Bay. Their menu includes a variety of fine seafood, pastas, salads, sandwiches, daily specials, and even breakfast food.
Black & Tan Grille, located in downtown Green Bay, is hailed for its extensive wine and martini list as well as its flavorful and ever-changing seasonal menu.
Plae Bistro (a Place to Laugh and Eat Bistro) is a cozy venue with a healthy spin on their menu. Located just off of Highway 172 in southeast Green 

Bay, Plae serves

 a wonderful selection of wine and dishes cooked with homegrown fruits and vegetables.
As for dessert, you can pick up chocolates and more from sinfully delicious establishments such as Beernsten's Candies, Kaap's Candies, and Serogy's.
Make it a Getaway at our Romantic Inn
Though it is often said that the best way to a person's heart is through their stomach, we think a romantic evening or two snuggled away at your favorite Inn is the better choice. Our Bed and Breakfast is just the place for you. Next time you're looking to get romantic, come experience the rich pallet of dining in Green Bay, and revel in the historic charm found at the Astor House Bed and Breakfast. Book your stay today.
---