Best Spots to Watch Football in Green Bay
Football fans, your long wait is over. The Green Bay Packers preseason games have begun. You may still have a chance to find a ticket or two online for the game at Lambeau Field on August 31st. Another fun way to watch the games is amongst Cheeseheads at one of five best sports bars in Green Bay. Whether you're in town for the football game or not, rest assured that the city has much more to offer. Whether you are a nature lover, an active outdoor person, or a foodie, you will find plenty of choices. We've made a few suggestions below to help you make a fun-filled visit. But first of all, make your reservations with Astor House. We are a Bed and Breakfast located only 10 minutes from Lambeau Field. Check the availability here.
Five Hot Spots in Green Bay to Watch Football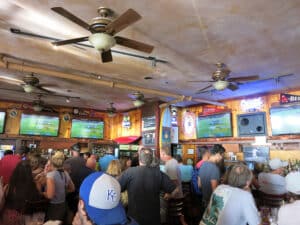 Football tickets are not required to go to 1919 Kitchen & Tap, which is a quintessential sports pub located in Lambeau Field. Converted from the original Chicago & Northwestern Railroad Depot, Titletown Beers has handcrafted beers and great foods. If you are serious about watching the game, Legends Brewhouse has 34 flatscreen TVs throughout the restaurant so you won't miss any play. The Ravine is a locally owned pub and grill with a large island bar that encourages good conversations. They also have plenty of flatscreen TVs. The last one is Louie's Lagoon at the South Bay Marina. They have a patio where you can keep an eye on the game while enjoying the food and drinks on their beautiful patio.
Football and Many Other Highlights of Green Bay
The best time to see the legendary football stadium is when the Packers are not playing at home. You can take a stadium tour and see the history-rich facility up close. Tours visit areas that are not open for game ticket holders.
If you want a little break from football, there are many fun things to do outdoors at this time of the year. For wildlife and nature lovers, you can easily spend a whole day at Bay Beach Wildlife Sanctuary, the Barkhausen Waterfowl Preserve, or the Fonferek's Glen. For those who enjoy physical activities such as jogging, biking, inline skating, and horseback riding, there are many great trails in the city. The best trail, just a few blocks from the Astor House, is the Fox River State Trail. It stretches for a beautiful 20 miles. Another summer time highlight in Green Bay is the Botanical Garden. They have a summer cookout every Wednesday throughout August and outdoor concerts on Thursday until August 17th. Another fun place to check out is the Meyer Theatre. There's almost always a show on the weekends during summer.
Many of these restaurants and attractions are just a short distance from Astor House. Book your room today, and come enjoy these wonderful late summer and early fall months in Green Bay with us.
---