Have you always dreamed of writing a book and getting it published? This weekend was planned with you in mind!
This is an amazing opportunity for budding authors to spend time with published author, Lorelei Savaryn! Lorelei is the author of THE CIRCUS OF STOLEN DREAMS, which released by world publishing giant, Penguin Random House, in 2020. Her second novel, THE EDGE OF IN BETWEEN, a magical Secret Garden retelling, comes out in Spring 2022. She is also currently working on a third novel through Penguin, set to release in 2023.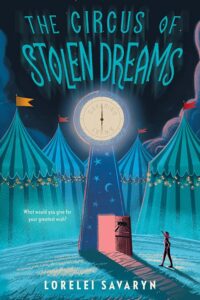 Here's what's in store for this motivational and inspirational weekend for writers:
Writers will arrive at the beautiful Astor House between 4 pm to 6 pm on Friday, August 20th. They'll settle in for a two-night stay and enjoy a literary-themed gift basket to start the weekend out right. Friday evening is free for writing time, exploring the town, or relaxation.
Writers can send the first chapter of their work and their query to Lorelei prior to the retreat and will receive a 30-minute individual writing critique session and discussion with Lorelei on Saturday morning.
Writers will also enjoy a 45-minute Introduction to Publishing session and a 45-minute Plotting 101 session with Lorelei as a group during the day.
Lorelei will be participating in an author event through Untitled Town and The Lion's Mouth Bookstore in Green Bay on Saturday, August 21st. All workshop sessions at the Astor House will be scheduled around Lorelei's speaking engagement. (Final itinerary for our workshop will be established once the festival's schedule is announced.)  Those who wish can attend Lorelei's one-hour talk with the festival.
Writers will enjoy a "Q&A Coffee and Dessert Social Hour" with Lorelei at the Astor House Saturday evening. Social time will also include an authors' excerpt reading from Lorelei's first novel "The Circus of Stolen Dreams."
Join us to further your craft in a luxurious, quiet, intimate setting with home-cooked breakfasts, time to write, and this amazing opportunity for insight and tips from Lorelei Savaryn
This amazing opportunity is still available for two more writers only.  Virtual attendance is possible for an enrollment investment of $100 or take part in the whole experience and stay at the Astor House B&B for the following rates:
Rates for Friday and Saturday night for one writer and a (non-writer) guest:  $550
Additional rate for a second writer to share a suite and participate in all Writer's Workshops:  $180
Space is limited!  Call 920-432-3585 to reserve your spot today!!