The Astor House is the Perfect Staycation in Green Bay
Are you looking for a break from the darkness of winter, or maybe you just need a respite before the hectic holiday activities begin? Astor House Bed and Breakfast, situated in the historic district of Green Bay, is the perfect getaway destination. Built in 1888, the house is equipped with many modern day amenities. Each of the five guest rooms is decorated with a different international theme: Hong Kong, Laredo, London, Marseilles, and Vienna. Just check yourself in and you're instantly transported to a different place. The in-room soaking tub or whirlpool bath will help dissolve away your stress, leaving you instantly relaxed and ready for the holidays.  Top it with a bottle of wine or a cup of tea in front of the fireplace, and settle in for the perfect staycation. If you wish to stay in your room for breakfast, just let us know. We are more than happy to deliver a breakfast basket to your door. Check the availability online today.
Holiday Lights, Shopping, & Dining For Your Staycation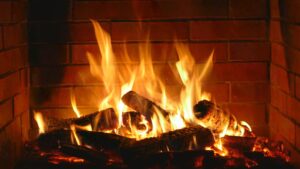 The daylight is getting shorter, but the holiday lights are keeping everyone's spirit bright. when you're ready to get outside, start at the Peace Tree outside the Brown County Court House. Its twinkling lights have been reminding the people of Green Bay about world peace since 1968. From there, you can choose to enjoy the tree lights in the shopping district, or enjoy a quiet walk along the Fox River Trail. Astor House is centrally located. You don't have to travel far to get to any of these places.
If you have been outdoors all day enjoying the holiday lights or taking in the peace and tranquility on a nature trail, finding a restaurant with a roaring fireplace probably sounds pretty good. There are four Green Bay restaurants with excellent food and charming fireplaces: Koko Sushi Bar, Plae Bistro, Hinterland Brewery and Restaurant, and Grazies Italian Grill. All of these restaurants are within 10 minutes from Astor House. Treat yourself and book a staycation at Astor House today.
---