Explore the Fox River Trail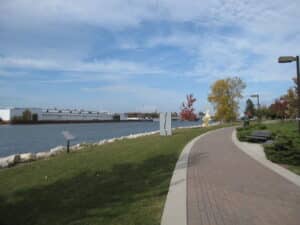 There's one thing that keeps Green Bay from being like every other large city in the Midwest, and that is the incredible green spaces that surround us here.  Even though it's still a little chilly up north, spring has officially arrived in Green Bay, which means Mother Nature's grand reawakening is underway. It's one of our favorite times to be is beautiful nature-driven city.  The flowers are blooming, the birds are migrating through the area, and the parks are beginning to green up again.  The lush nature and distinctive landscapes along the shores of beautiful Lake Michigan offer visitors to the area a variety of ways in which to enjoy the great outdoors, but one of our favorite things to do is walk along the Fox River Trail.  Book your room at our historic Green Bay Bed and Breakfast this spring, and explore the many miles of this trail with us this spring.
Green Bay's Fox River Trail
The Fox River State Recreational Trail travels 20 miles in total, from Green Bay to edge of Brown County.  It was once a railroad track, converted into a recreational trail in 2001. The Fox River Trail corridor passes through an area of rich history, and dates back to the earliest days of Native Americans using the footpaths to travel between their villages located along the river. It wasn't until 1873 that a railway was put in by the Milwaukee and Northern Railway Company, who purchased the corridor and made regular runs between the Green Bay and Milwaukee markets. Rail service was discontinued in 1989, but it took over 20 years for the trail to be developed into what it is today. Today, the trail is incredibly popular and passes through the communities of Green Bay, Allouez, De Pere, Rockland, Wrightstown and Holland.
Some interesting destinations along the Fox River Trail include the following:
Whether you're up for a long and invigorating walk, or just a short stroll, the Fox River Trail in Green Bay is perfect.  Better yet, it's only steps away from our historic Bed and Breakfast, and the perfect way to cap off your day or start your morning in Green Bay.  As the weather begins to improve, now is a great time to plan a visit to Green Bay.  Book your room today.
---