Discover Green Bay This Summer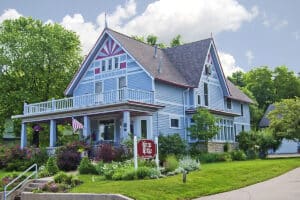 The Astor House Bed and Breakfast, located near downtown Green Bay, has something for everyone this summer. This lovely and historic Inn is located only 3 miles from Lambeau Field. That's an easy stroll or a short drive to a Cheesehead Extravaganza! Even if there isn't a football game scheduled, you can relax in the lovely Lambeau Field restaurant or take a tour of the legendary stadium.
Book a room now and reserve the room of your dreams. We have the London Room, which offers a king bed, gas fireplace, and double whirlpool in the room; or the Hong Kong room, a retreat which includes not only the gas fireplace and whirlpool but a private spiral staircase. Or take a trip to Provence, France with a weekend in our Marseilles room. Feeling more medieval and chivalrous?  Contact us to book your Vienna balcony room. Perhaps you'd rather tumble into an old-fashioned feather bed in the Laredo room? We have something for everyone at The Astor House Bed and Breakfast.
Explore the Vibrant City of Green Bay
After you've taken the time you need to relax at our Wisconsin Bed and Breakfast, it's time to head out an explore the awesome city of Green Bay.  Beyond visiting Lambeau field and indulging football fans, Green Bay has plenty of things to see and do, most of which isn't too far away from our Bed and Breakfast.
*  Within a 10-minute drive, there are dozens of excellent dining options that include breweries, restaurants, and options for wine enthusiasts.
*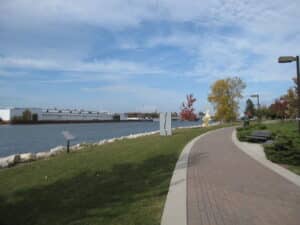 Walking distance from the Inn will take you to the Fox River Trail, a 13-mile hiking and biking trail.
* Take a self-guided tour through the lovely Astor neighborhood (named after the famed John Jacob Astor). You can use a self-guided tour booklet that provides fascinating facts about the architecture, people, and history as your tour the neighborhood.
* Just a few miles down the road is a jewel for the entire family. On Monroe Avenue, you'll find Bay Beach Amusement Park, an old-fashioned amusement park that is open all summer. With both rides and concession stands, this will be a hit for the entire family!
* Love plants? Visit the Green Bay Botanical Garden. You'll enjoy over 47 acres of gardens with a variety of flora all year-round. This Garden is just a 15-minute drive away.
After spending a day enjoying the historical and topical menagerie that Green Bay has to offer, return to your contemporary amenities and comfortable accommodations at the Astor House, which include small refrigerators in every room, high-speed Internet access, telephones, cable TV, VCRs, air conditioning, CD players and daily maid service. Let us give you the vacation you deserve. Book your room today!
---