Summer Football in Green Bay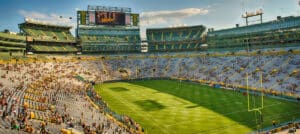 Packer Fever is ratcheting up again in Green Bay (does it ever really go away?).  Even if you're not a football fan, you've likely heard of the Green Bay Packers football team. Their team franchise is legendary, not only because of the decades of great playing and championships, but because of their dedicated fans, too.  Though the regular season isn't set to start for another couple of months, there is still plenty of Packer-related fun to be had during the summer months in Green Bay.  The Packers announced their summer training camp schedule, as this amazing team gears up for another season of spectacular football. Located just a short distance from the stadium, our Bed and Breakfast Inn is the perfect place to stay while you watch the Green Bay Packers in action. Book your room today!
Green Bay Packers
The Green Bay Packers are a legendary force in the charming town of Green Bay.  The team was originally formed in 1919, and is one of the oldest NFL franchises still in existence today.  They are also the winningest team in NFL history.  With such an inspiring legacy, it's no wonder that Green Bay Packer football is such a major part of the culture in Green Bay.  The summer training camps are a wonderful way for fans to join in the fun and to kick off the football season. Other Green Bay Packers related activities include visiting the Hall of Fame, taking a stadium tour. The annual Hall of Fame Induction Banquet is July 21, 2018. There's also a new Titletown Park in Green Bay, which is open for four seasons of fun.
Green Bay Packers Training Camp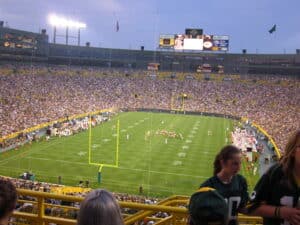 The Green Bay Packer training camp takes place on Ray Nitschke Field, which opened in 2009, and Clarke Hinkle Field.  At Nitschke Field, there is seating for approximately 1,500 fans to enjoy the practices.  The gates open 90 minutes before practices, and stay open for about 30 minutes after practice.  Training kicks off July 26, 2018, and this year there will be something special. The Green Bay Packes are hosting the Packers Experience, a 4-day festival celebrating 100 years of being a franchise. This year, the popular Green Bay Packers Family Night occurs on August 4th at Lambeau Field.  There will be a picnic in the parking lot in the afternoon prior to this event, followed by various activities and on-field drills, the traditional "Jersey Off Our Backs" promotion, and fireworks to end the evening.
If you're looking forward to Packer football as much as we are, then book your room at our historic Bed and Breakfast today and come visit us in Green Bay this summer.
---