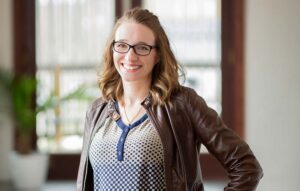 As springtime approaches we're excited to offer our very first Family Weekend at the Astor House!  The event will be all about the magic of reading and sharing adventures together.  Tom and I have enjoyed hosting many guests who have traveled to the Inn with their kids.  We felt inspired to create a weekend especially with our young visitors in mind.  May 13th-15th will be geared towards middle graders who visit the Astor House with a parent or guardian for a memorable and meaningful experience.
We're honored to welcome Penguin Random House author Lorelei Savaryn as our special guest for this fun event!  Lorelei is the daughter/step-daughter of your innkeepers and we couldn't be more proud as she prepares for the release of her second fantasy novel. Lorelei is the author of "The Circus of Stolen Dreams, released in 2020 and "The Edge of In Between," a magical retelling of the Secret Garden,  which comes out April 19, 2022.
Both books have received Booklist Starred Reviews and are beautiful fantasy novels geared towards middle schoolers.  Read more about these novels here:  https://loreleisavaryn.com/
The Edge of In Between is the theme for this fantastic family weekend.  Guests will receive a Welcome Gift including an autographed copy of each of Lorelei's novels, a certificate for Happy Joe's Pizza and other surprises.  The event will include some social time with Lorelei, a former teacher and teacher's coach,  and she'll read excerpts from her novels as well.  You and your middle grader will be inspired by her personal story of success and by the deep and meaningful themes of her novels.
There'll also be a Scavenger Hunt in the garden where our guests will be given a list of book related items they'll need to hunt for and find in the gardens surrounding the Astor House.  Once they find the items on their list, they'll be rewarded with a special prize to redeem after the weekend of fun is a memory.   As the warm-weather season rolls on, an entire section of our garden at the Inn is being permanently dedicated to  The Edge of In Between, drawing our inspiration from Lorelei's captivating descriptions in the pages of her book.
We're going all out with special kid-friendly breakfasts, like my Homemade Buttermilk Pancakes with Homemade Strawberry jam.  There'll also be a very special breakfast to match the one described in The Edge of In Between when Lottie, the main character, shares a meal with a family.
We only have four rooms available for this very special event, so please don't hesitate to make your reservation and secure your space.  We can't wait to roll out the red carpet for our young visitors this spring at the Astor House Family Weekend.  Reservations by phone only at 920-432-3585.